Asset Classes
Sector/Industry
Meet a wider range of client objectives with our full spectrum of sector funds, ETFs, and other solutions.
Sector capabilities that scour the globe to uncover opportunities
By prioritizing the stocks of companies in specific economic segments, Fidelity sector funds and solutions can help your clients pursue growth, diversify their portfolios, and manage risk. Our lineup encompasses:
Experience that leads to results
We launched our first sector fund in 1981, giving us a demonstrated long-term track record in sector investing and proficiency across market environments.
Research capabilities that provide a competitive edge
Our deep bench of equity research analysts has access to company management, suppliers, and government agencies, providing sector coverage that few competitors can match.
Potential for greater precision in portfolio building
Your clients may benefit from the cyclical nature of sectors by investing in specific sector solutions that have historically outperformed during a given phase of the business cycle.
Mutual Funds & ETFs
Fidelity's lineup of sector products includes a suite of exchange-traded funds (ETFs) that covers all 11 sectors of the U.S. equity market.
Variable Insurance Products
Designed for inclusion in annuity products and include a range of equity, sector, fixed income, and asset allocation portfolios.
Variable Insurance Products
Model Portfolios
Accessing Fidelity's powerful portfolio management capabilities, our model portfolios can help you manage investments effectively so you can add value for clients in other ways.
Sectors at Fidelity
Learn about our perspective, investment process, and research capabilities.
All in a Day with Katie Shaw
2:09
A behind-the-scenes look at a typical day for a Fidelity portfolio manager.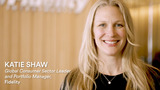 NOW PLAYING
All in a Day with Katie Shaw
NOW PLAYING
Opportunities in the Health Care Sector
Want to know more?
Let's talk about sector solutions for your clients.
Explore more investment products & solutions